Carbon Fiber & Composite Parts
Custom Works has been producing fiberglass and carbon fiber parts for 2nd gen Camaros since 2004. We use and install ALL of our parts to ensure proper fit and quality.
RS Nose with Integral Grill Shell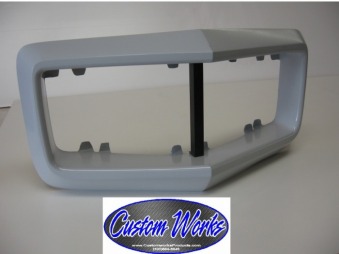 Our reproduction Rally Sport nose features a light weight fiberglass construction and a revised look. Our nose has the inner chrome grill shell of the original incorporated into the part as one piece. We have also smoothed the transition between the nose and grill area. Our nose replaces the stock urethane nose, chrome grill insert, and includes a lighweight center bar. This part bolts to the header panel using the mounts in the grill area, elimating the heavy brackets used to hold the factory nose in place. Stock plastic grills and rubber divider strip mount just like stock. Part weighs approx 5lbs, and eliminates approx 25 pounds off the nose of the car! Grey Gelcoat finish, hand layed fiberglass

70-73 RS Nose $499 -
LOOK AT BOTTOM OF PAGE FOR PHOTOS OF NOSE INSTALLED
---
Carbon Fiber RS Bumperettes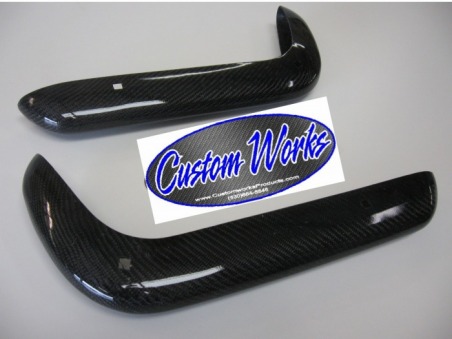 Our RS bumperettes fit 70-73 RS or Standard front Camaros. These are hand layed carbon fiber parts bolt on just like the stock parts, but at a fraction of the weight at just 1 pound for the pair!
RS Bumperettes Pr. carbon fiber $450

RS Bumperettes Pr. fiberglass $210


---
70-73 Rear Bumper Carbon Fiber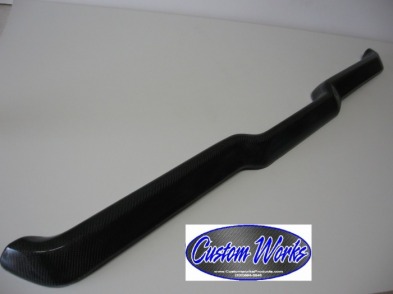 Our rear bumpers look just like the factory part, but in light weight carbon fiber. Our part is designed to use the factory mounts, but we recommend bonding your brackets to the bumper for that clean smooth look. It weighs a mere 3 pounds! Features hand layed carbon fiber

70-73 rear bumper carbon fiber $425


70-73 rear bumper fiberglass $240



**Order front and rear carbon fiber bumper set for $850** Fiberglass set $450
---
1970-78 Dash panel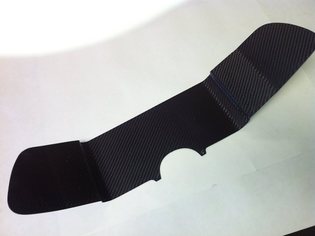 Our famous aluminum dash panels now come in 100% carbon fiber!!!! Panels come "blank" or can be custom configured for your aftermarket gauges by us.


"blank" panels- $199

drilled $45 additional**


**includes up to 6 standard size gauges, wiper switch hole, and headlight switch location. Additional gauges or non-standard will cost additional. Holes can be deleted.
---
Stealth Ram Carbon Fiber Intake Plenum
This new plenum is designed to replace the upper intake plenum on your Holley Stealth Ram EFI Intake manifold. This part uses all your existing parts, and should fit where your pooring cast aluminum plenum once resided. This manifold will reduce intake temperatures, increase plenum volume by 40%, and weighs 1/3 the weight of the orginal piece. Our plenum is the same height as the original plenum, and is a direct replacement. Modifications may be necessary to your throttle linkage. This part is available in black composite, or carbon fiber (as pictured)

$650 in black composite

$1000 for carbon fiber (as pictured)
Datsun Z Car Tripple Carb Air box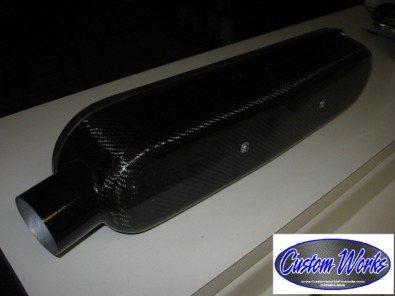 Composite air box plumbs cold air into carbs with filter mounted outside engine compartment. Fits Solex and Weber triple carburetors. Fits most short and mid-length intakes, and clears brake booster. Mounts directly to carbs, and uses stock air bell even up to 2" Heat shield MUST be used between air box and header. Fits 3" intake tube (not included)
Air Box Assembly $650 Carbon fiber

$500 fiberglass
---
RS nose installed and painted, Installation completed by Customer - Click for larger image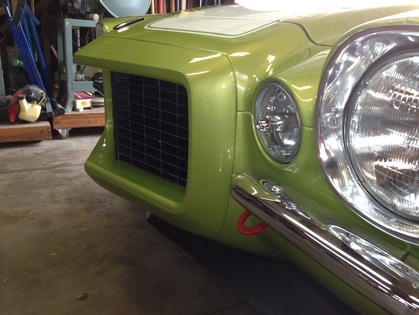 Matt Mortimer's Camaro
---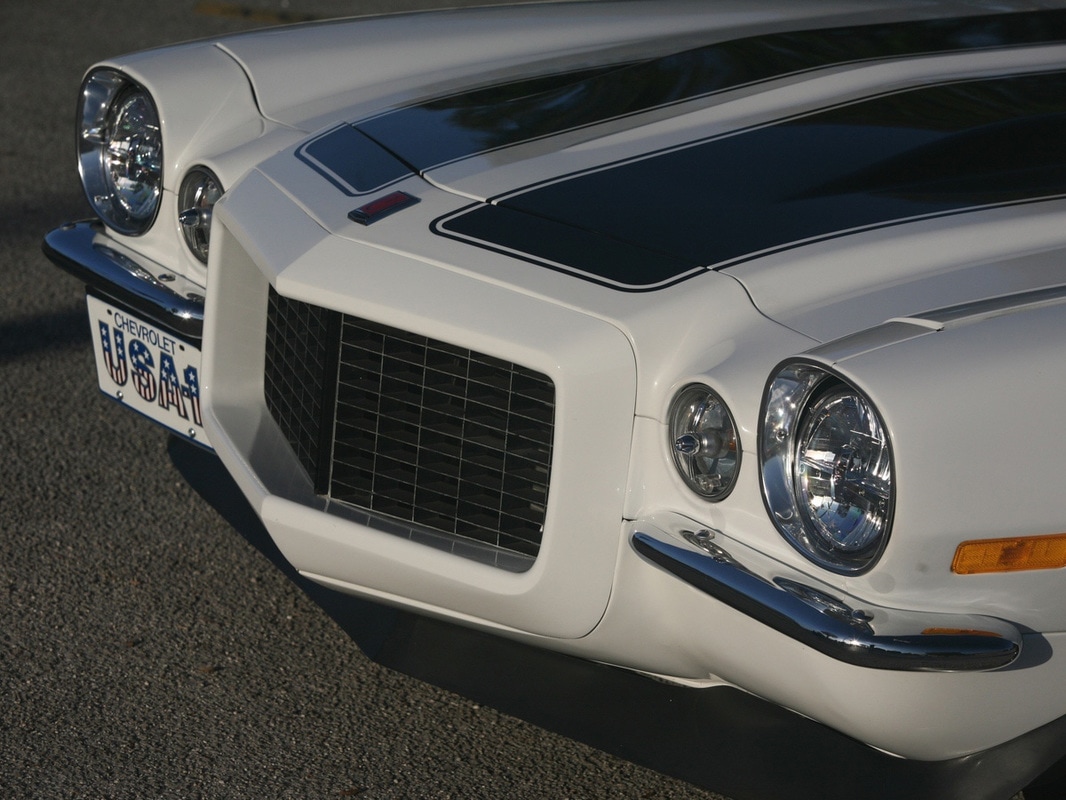 "Although it was originally an LT model, the addition of the Custom Works split bumper front end gives a more agressive appearance, and is the perfect cosmetic upgrade" The above car was featured in Street Muscle magazine Feb 2017 and Owned By Bill Weston
Above is Paul VanNus's Camaro, it features our RS nose. This car has been seen everywhere and is truely a masterpiece
Above is a 1971 Camaro from GAP Performance with our RS nose installed, this car is a stunner!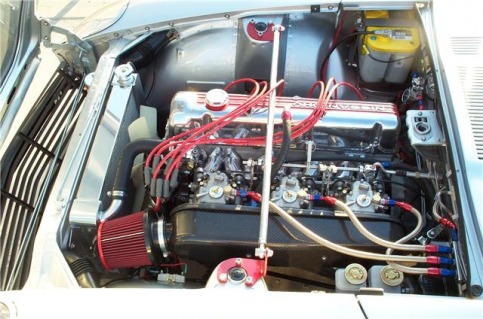 Air box installed on Datsun 1970 240z with triple 45 webber carburetors
---
Notice about Carbon Fiber Composite Parts
Our carbon fiber parts are designed as lightweight replacement parts. The parts we cary are not D.O.T. approved for highway use, please check your local. State, and Federal laws before installation of these parts. Many of our carbon fiber parts are produced without a gelcoat finish, which may result in "print through" of the woven fabric on the surface of the part. Also small pin holes, or air bubbles can be found, they are present in ALL composite pieces, but usually hidden by a colored gelcoat. All of the carbon fiber parts with the Custom Works logo are produced by us, all of our composite parts are made in the USA, because it matters!